Tactics Manager Pro - Create Drills, Tactics and Session Plans (App)
Loyalty points - how does it work?
Every time you make a purchase, you will receive points.
200 points is worth £1, €1, $1 USD, $1 AUD
How to apply your points:
Add products to cart and checkout
Login on the final checkout page
Redeem your points to apply the discount
Period
One-time Only Cost - Keep for Life
Coaching software that enables you to create
your own practices, tactics and plan sessions
Used by 37,000+ Coaches Worldwide
Youth, Academy, Semi-pro, Pro & National FAs
✔ Quick and easy to use - Create diagrams in minutes!
✔ Work offline - No Internet Connection needed!
✔ One-time only cost + Free Version updates for life!
✔ Use on Win, Mac & iPad, (Android Tab coming soon!)
iPad is Available Now!
Android Tablet versions coming soon: Q4 2023
(Free for existing users)
Manage Devices, Licence & Users
✔ Use on More Devices → 2 Desktops & 1 Tablet (once iPad/Android released)
✔ Manage My Devices → Self managed to delete a device and register a new one
✔ Got a Multi-Licence? → Now easy to add/remove users
✔ Licence Changed from Product key to Email → Now just login, easy!
Tools
✔ Curved Lines → Now super quick and easy to achieve with more control
✔ Wiggly Lines → Now more control over the wave width and distance
✔ Square and Circle → The outline line thickness and colour can now be changed
✔ Speech → The outline line thickness, colour, and fill colour can now be changed
Save to JPEG
✔ Crop & Export in Better Quality → high resolution images
Players
✔ Male and Female players → Now add onto the pitch together
✔ Player Drop-Shadow → Now able to turn off drop-shadow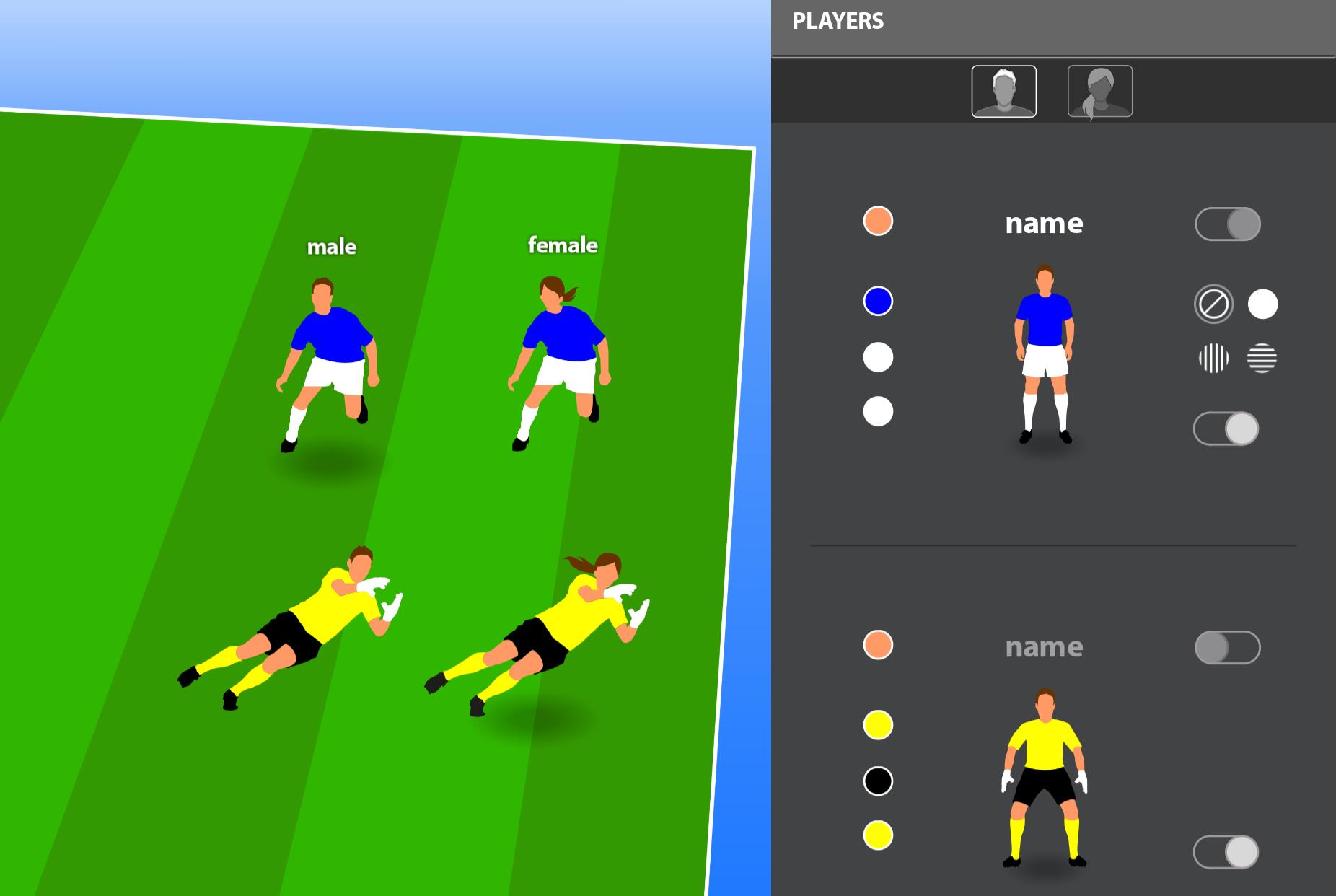 File Management
✔ Added "Grid View" → with Thumbnail File Previews
✔ Sort files and folder by → Name and Date A-Z, Z-A
✔ Export to JPEG or PDF → without having to open file
✔ Easier to multi-select → Delete or Move to different folders
Cloud Saving
✔ Free Cloud Saving → 20 practices / 2 sessions included for Existing users
✔ Unlimited Cloud Saving → Subscribe for unlimited files across all your devices *
* Integrated Cloud Saving Option enabling your files to be saved and opened on all devices you use (no need for manual transfers)
Other Features
| | |
| --- | --- |
| Change Player Shirt to Stripes | Change Players / GK to Female |
| | |
| --- | --- |
| Change Player / GK Skin tone | 2 Improved Pitch Angles |
Steve Burns - Aston Villa FC U21's Coach


As a football club we have been delighted with Tactics Manager. It allows the coaches to plan their sessions in greater detail and gives the players visual aids to help them understand what they will be doing in training. The programme is very intuitive and the coaches think this is a great positive side of the software. The continuous updates show that the software is continuing to evolve and offers more every time".
Alexandre Silva - Portugal National U21 Coach


Practical, intuitive, easy to use and time saving software! With Tactics Manager, planning drills and sessions is now easier than ever. Congratulations and keep up the amazing work.
Hugo Ribeiro - SL Benfica U15 GK Coach


Tactics Manager is an excellent football training software. Very simple to use, but at the same time simple, practical and functional with everything i need and perfect to create and organize my exercises, even for the goalkeeper training. In addition to all the functionality allows me to create videos for a better explanation to the keepers
Leonardo Gabbanini - AFC Fiorentina Coach


Having used other apps, I consider Tactics Manager the best application software around, I use it daily to prepare training Sessions and for official matches with my team against other Serie A academy teams.
Already seen enough? Buy now
Tactics Manager Pro
✔ Quick and easy to use - Create diagrams in minutes!
✔ Work offline - No Internet Connection needed!
✔ One-time only cost + Free Version updates for life!
✔ Use on Win, Mac & iPad, (Android Tab coming soon!)
delivery
eBooks and Videos
Available within 2 minutes of payment
Download via Coach Viewer Apps used by over 140,000 coaches worldwide
Available on multiple devices PC, Mac, iPhone, iPad, Android Phone / Tablets, Chromebook
No Internet connection required after login to Apps and downloading eBooks/Videos
Print eBook pages from all devices
Remembers last page viewed stored across all your used devices
Bookmark your favourite pages stored across all your used devices
Videos can be streamed or downloaded for offline use
Tactics Manager App
Available within 2 minutes of payment
Product key emailed to you immediately after purchase. (Check Spam)
Available for Windows PC and Apple Mac
iPad, Android Tablet and Web mid-end of 2022)
Free Returns
Money Back Guarantee
Get a full refund for any reason within 60 days.
Physical goods - send it back to us for FREE and a full refund will be processed.
Digital goods - reply back to your order confirmation email and refunds will be processed within 12 hours of the request.
FREE Returns
Quick and Easy Free Returns within 60 days.
Physical goods - Inform us within 60 days and you'll have 3 Options:


Send it back to us for FREE and a full refund will be processed
An exchange with another product of your liking, we can assist you with recommendations
Credit on account - can use the credit to make a future purchase in your own time
Digital goods - Inform us and you'll have 3 Options:


A full refund back to your payment method
An exchange with another product of your liking, we can assist you with recommendations
Credit on account - can use the credit to make a future purchase in your own time
Low Price Guarantee

We will beat any price you find!

If you find the same new product online at a cheaper price including shipping, let us know and we will beat it!

What is Reward Points and how does it work?

Get 5% Cash back with every purchase!

Every time you make a purchase, you will receive points which equates to 5%
200 points is worth £1, €1, $1 USD, $1 AUD
How to apply your points:
Add products to cart and checkout
Login on the final checkout page
Redeem your points to apply the discount to your order